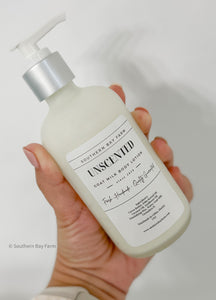 southern bay farm
Unscented Goat Milk Body Lotion 8 oz
Regular price
$27.00
$0.00
Unit price
per
Enriched goat milk body lotion. Filled with sunflower oil, cocoa butter, Shea butter and coconut oil. 

no fragrances added 
Ingredients: Goats Milk, Water, Cocoa Butter, Coconut Oil, Sunflower Oil, Germaben II (preservative).
**
Lotion's should never be stored in temperatures 75+. Keep in a cool room or refrigerate. Once in a desired environment, do not change environment's or you risk contamination. Stop the use of Goat Milk Lotion immediately, if you experience mold or a foul scent.
(If you or someone who is buying this product and has known allergies, please refer to our benefits page for ingredient descriptions.)
**No returns. All products are homemade with natural goat milk. If you have any concerns about a product you receive please contact us.**
---